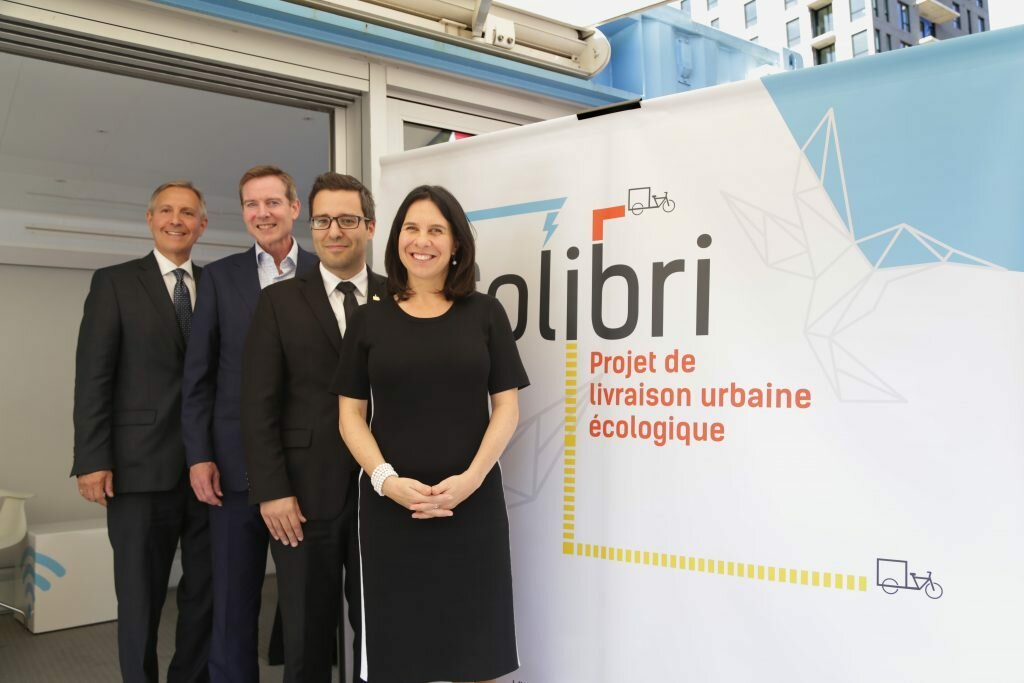 From right to left : Valérie Plante, mayor of Montreal and Arrondissement Ville-Marie ; Robert Beaudry, District Councillor for Saint-Jacques and
Head of Economic and Commercial Development on the City's Executive Committee;  John Ferguson, CEO  Purolator Inc.; and Raymond Leduc, chairperson of the Board of Directors, Jalon. Photo credit : Arrondissement Ville-Marie, Joudy Hilal
The eco-friendly urban delivery pilot project Colibri was officially launched on September 12, 2019 with project partners, mayor Valérie Plante and city counsellor Robert Beaudry all on hand to mark the event. Located on the site of the former Montreal bus station on Boulevard De Maisonneuve Est between Rue Berri and Rue Saint-Hubert, this project aims to reduce the impact of "last mile" deliveries by introducing environmentally-friendly delivery vehicles such as e-cargo bikes.
Jalon, a key project partner
As part of its mandate, Jalon is assisting the Arrondissement de Ville-Marie in the deployment of the Colibri project. Over the next several months, the Jalon team will help with operations on site, analyze the data gathered, assess the impact of the pilot project and make various recommendations.
"Accelerating innovation in urban logistics is key to moving our society towards a more sustainable form of shared mobility. In this regard, the innovation platform provided by Colibri will allow us to test concrete solutions for the movement of goods," said Jean- François Tremblay, President and CEO of Jalon.
A hot topic
In 2018, Jalon got the mandate to identify the issues and irritants specific to urban logistics and the delivery of goods in dense centres. The main goal was to use a participative approach to create a panel of industry stakeholders, the mobilization of which led to the consensual and collective identification of twenty-some solutions. The Colibri project is one such solution.
Call for proposals
Do you have ideas that could help advance eco-friendly urban delivery and logistics? We invite all stakeholders or organizations wishing to contribute to innovation to contact Jalon to discuss other components or offshoots of this projects.


Published on September 26, 2019