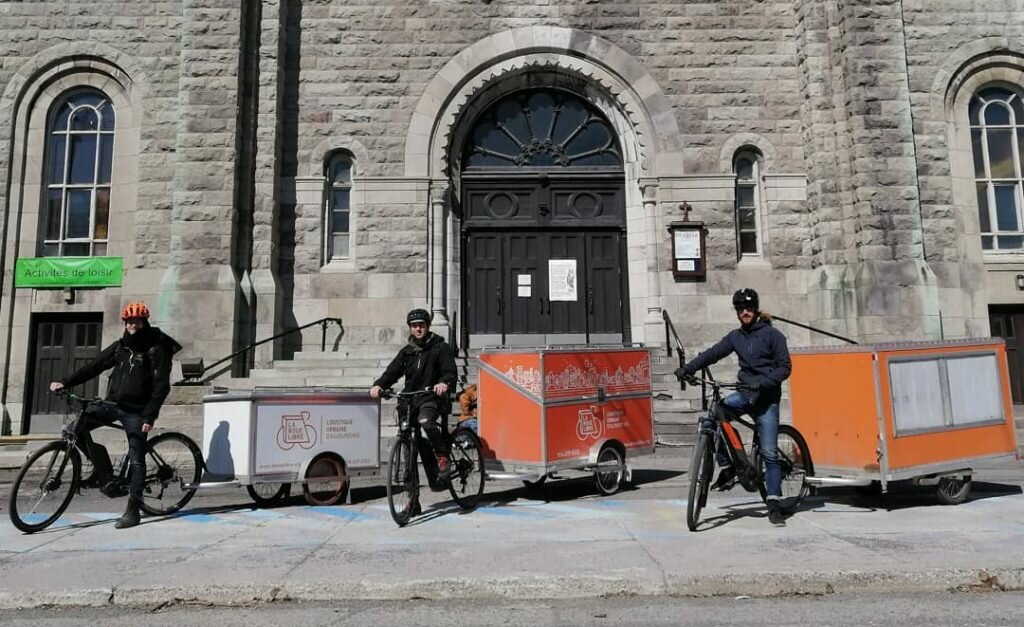 March 16, 2019. Non-essential businesses are getting ready to close, while others are implementing the first physical distancing measures. The most vulnerable citizens are encouraged to stay home. Meanwhile, the people behind the Colibri bicycle delivery project are mobilizing. The objective: to help local merchants deliver to the homes of their regular customers who made their purchases remotely.
Two weeks later, a pilot project is set up in collaboration with Courant Plus, La Roue Libre, Livraison Vélo Montréal and Chasseurs Courrier. The goal: to offer merchants within defined geographic zones a local delivery service that is affordable (less than $5 per delivery), fast (same day or one day) and responsible. The delivery service is deployed on cargo bikes and provided by social and solidarity economy organizations or by employees of logistics companies. 
Among other things, the pilot project made it possible to measure the critical mass of delivery requests against the delivery capacity in order to ensure a fully efficient service at advantageous prices.
Now that businesses are gradually opening, it's time to share our results after more than three months of experimentation. This article delves into the initial field observations that justified the implementation of a pilot project, the different delivery types considered and the model that was ultimately chosen for the project and, finally, the results of the initiative so far.
A solution based on several field reports
The desire for a virtuous and affordable model came as a response to several field reports submitted before and during the pandemic.
Working conditions 
Job insecurity and the safety of workers in the delivery and logistics sector predated the pandemic, as several articles have demonstrated in recent months.
Shipping time
The massive increase in online shopping during the pandemic (a 100% increase according to the Trade Council of Canada) also led to several shipping delays and problems.
Price of delivery
Finally, the delivery costs for small merchants proved to be a major obstacle at times. A case in point: the story of a $16 coffee order that cost $13 to deliver.
These three problems (working conditions, delays and costs) are on top of the impact of other problems related to the delivery of goods such as congestion, road cohabitation and safety for different users and the air, noise and visual pollution generated by delivery trucks in cities.
The health context has also revealed several other issues concerning:
Retailers: The increase in online shopping comes at the expense of local shops. The latter are trying to compete with the large retailers by deploying their own e-commerce initiatives.
Consumers: Consumers want access to competitively priced products faster and faster.
Carriers: Express carriers are struggling to keep up with the delivery load and conditions imposed by the giants of the marketplace (led by Amazon). At the same time, some messengers and couriers are unable to offer prices adapted to the needs of merchants.
In summary 
Local shops help to create a lively neighbourhood vibe that residents seek. Local merchants are struggling to compete against the diversity and price of products, as well as delivery times. To cope with this, merchants are moving into e-commerce in order to offer their products to a wider public, but are coming up against the challenges of urban logistics.
Jalon's proposal: a delivery service that promotes local and fair trade purchasing across the value chain
Considering the issues mentioned above, the use of cargo bikes or trailer bikes became the obvious choice. A group of companies equipped with cargo bikes got on board, and we were able to create a carbon-free delivery fleet with various salaried employees. It also provided the agility needed for fast service at an attractive price. This rapid deployment was also made possible thanks to the lessons learned from the Colibri mini-hub project, deployed in September 2019.
This type of offer also differs from the two main delivery modes in this complex sector:
The "classic" delivery:

The carriers do a round of pick-ups at the end of the day and bring the parcels or letters back to the sorting centre where they organize the delivery of all the arrivals (a parcel can come from 3 km or from 6,000 km away). Unit delivery prices are competitive (provided the shipper has sufficient volume to negotiate a deal) and can be as low as $10 or even about $7 in the best case scenario.

Direct delivery, or "point-to-point" delivery:

This is reminiscent of the work of couriers and messengers.  It involves quickly moving an envelope, a spare part or sample for analysis from point A to point B. Speed, reliability and a direct route are the key parameters of this service. The price varies between $15 and $20 for a delivery. However, if self-employed workers use their own vehicles and fuel, the price is approximately $10. This gap is explained by the difference in the cost of a self-employed worker versus a salaried employee and by differences in working conditions.
Convincing results
Here are some of the results gathered over a period of two and a half months:
More than 6,500 carbon-free cargo bike deliveries

More than 100 participating businesses

More than 3,000 Montrealers used the service

An average delivery distance of 2 km

An average delivery time of about 10 minutes per package

An average of 165 deliveries per day

More than one out of every two parcels (57%) were delivered the same day, with the remainder (43%) being delivered the next day). 
Number of shipments per week

When you consider the price of the service, this is an offer that defies all competition. For a quick turnaround time (same day or one day) and a lower price than a conventional or live delivery ($5 for the pilot project versus $17 on average for this type of service), we can successfully do carbon-free deliveries. It's a real tour de where everyone involved comes out ahead.
So, it works?
Yes, but it doesn't work just anywhere… The pilot project has shown that not all sectors are created equally. It's key to have a territory with enough participating businesses and a high volume of merchandise to deliver. For this reason, it's preferable to divide the delivery areas into different sectors where the offer will be adapted to their specific reality.
However, to ensure the full efficiency and stability of an affordable, fast and fair delivery service, it is crucial never to drive around "empty" (with no cargo) and to consolidate the pick-ups and deliveries to the businesses as much as possible. 
In fact, the service has shown that the cargo bike's capacity allows for optimized rounds of several hours within a radius of less than 3 to 5 km around businesses.
Merchants must also follow certain guidelines: 
Set noon as the deadline for delivery orders 

Prepare orders by 1 p.m. and be reasonable about the size and weight of the packages
What's next?
The project is evolving into a more developed version that takes into account the learnings of the pilot project to create a sustainable and durable service. The project has allowed us to understand the needs of merchants across Montreal's different commercial sectors, each of which is unique in terms of density and the types of businesses operating there.
The new version will include:
A new project governance structure that will improve the service and simplify the role of merchants

A willingness to develop and acquire a local carbon-free delivery

certification or label

A service adapted to the needs of the sector (e.g. deliveries only three days a week, re-evaluated delivery distances, etc.).

A service offer proposed by all of the deliverers participating in the project

A possible integration of mini-hubs to facilitate and optimize the delivery of goods (like the Colibri project).
In addition, this approach to fair, carbon-free and accessible local deliveries will be integrated into new pilot projects focusing on delivery services for public markets and eventually for Montréal restaurants.


Published on August 28, 2020