Mobilizing complementary stakeholders around issues to be resolved
The issues we need to understand in order to help further the sustainable and intelligent mobility of tomorrow are both numerous and complex. To get there, we need to focus on strong cooperation among a wide array of stakeholders that are not yet in the habit of dialoguing or who speak vastly different professional languages.
Jalon regularly organizes unifying events of various sizes in order to achieve this mobilization. For example: lunch & learn events, conferences, citizen consultations, and the development of communities of interest around relevant subjects, such as autonomous vehicles or the challenges of urban deliveries.
Jalon brings together small groups of industry stakeholders at lunch & learn events that help them build ties and interact with each other while focusing on topics relating to mobility. A few examples of recently addressed topics include ecodesign, urban planning and mobility, autonomous vehicles, and human behaviour.
Want to take part in these informal gatherings? Have any ideas about topics we should be discussing? Write to us!
Stimulating innovation and experimentation in the field of mobility
Market analysis, grant-writing and financial structuring, corporate guidance and sponsorship, opportunity studies, testing in controlled and urban environments: our expertise can help stimulate your innovation in the field of mobility.
In 2018, some of Jalon's efforts involved work on two projects relating to autonomous vehicles: autonomous vehicle user tests and the development of a questionnaire (and analysis of the responses) on the implementation of an autonomous test shuttle at Montreal's Olympic Stadium.
In situ user tests – autonomous vehicles
In October 2018, Jalon conducted its first autonomous vehicle user experience test on the PMG test track in Blainville. The aim was to get a snapshot of the users' state (emotional, cognitive, and attentive) in an autonomous car, depending on the manoeuvres to be performed and the vehicle's degree of autonomy. This experimentation allowed us to raise such questions as:
What types of experiences do we undergo in autonomous vehicles?
What kind of services could we eventually use in such vehicles?
How should we envision the interior layout of these vehicles?
Autonomous Shuttle – Olympic Stadium
As part of an autonomous shuttle test at Montreal's Olympic Stadium in the fall of 2018, the City of Montreal asked Jalon to develop various questionnaires and to analyze the results gathered among workers, passengers, and passers-by in contact with or using the shuttle.
Rolling out new forms of mobility
In addition to mobilizing stakeholders, Jalon also works with several members of the ecosystem to apply or further various aspects of integrated mobility: pooling or sharing of fleets, active commuting, and optimization of existing resources for sustainable mobility.
Our consulting and analysis expertise allows us to play a key role in several integrated and intelligent mobility efforts, including the Smart Cities Challenge and the optimization of urban delivery strategies.
Under the direction of the Laboratoire d'innovation urbaine de Montréal, Jalon is one of many organizations working to contribute to Montreal's running in the Smart Cities Challenge, a project led by Infrastructure Canada.
The City of Montreal has asked Jalon to look into urban logistics and all possible solutions that would allow us to rethink the way we supply cities and their residents. Jalon recently established a participatory approach that aims to mobilize stakeholders in the goods delivery value chain. After having reached a consensus on the assessment, the goal was to target irritants and constraints relating to all types of urban deliveries. This process allowed Jalon to identify 26 potential solutions, including some that are currently undergoing feasibility studies.
Promoting the local ecosystem
Montreal and its surrounding metropolitan region provide winning conditions for supporting, developing, and testing emerging mobility-related technologies.
Jalon is committed to promoting these unique assets on the national and international scenes by taking part in various missions, attending major mobility events, and holding the Jalon Mobility Awards, an annual awards gala recognizing innovation and excellence in intelligent and sustainable mobility.
National and International Presence
In 2018, Jalon held workshops and presented talks at various key events, including Movin'On, LA CoMotion, and Les Entretiens Jacques-Cartier. Jalon also regularly hosts international delegations—from Germany, among others—seeking to further international collaboration.
The first edition of the Jalon Mobility Awards will be held on October 17, 2019. See the section on the awards for complete details.
Improving our collective knowledge of mobility
Via real or virtual infrastructures, or through its participation in discussion forums and coordinating committees, Jalon encourages and gives structure to reciprocal learning and the sharing of knowledge in the field of sustainable and intelligent mobility.
To that end, Jalon manages a strategy to implement and share mobility data, supported by the Ministère de l'Économie et de l'Innovation.
Implementation and Sharing of Data
Through $1.2 million in funding from the Ministère de l'Économie et de l'Innovation, Jalon is currently working on providing a virtual space for the sharing and cross-referencing of open and private mobility data to benefit researchers and businesses seeking to develop new products and services.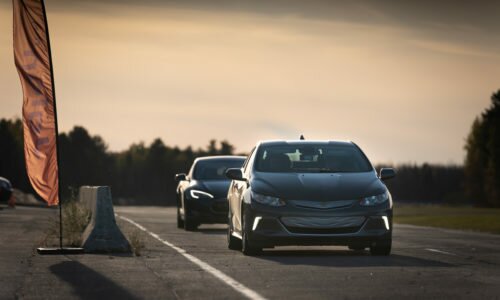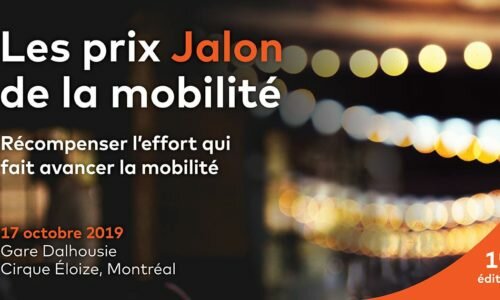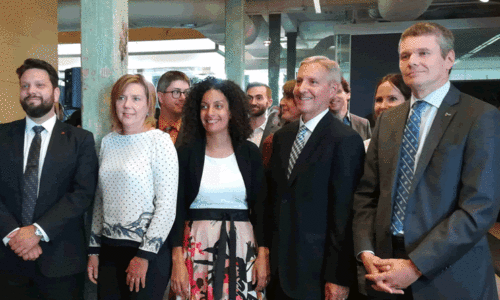 Have an idea, a project? We can lend our support!
Jalon is a rallying point for innovation leaders in the areas of sustainable and intelligent mobility. Contact us now to find out how we can help you speed up the development of your projects and ideas!