When
October 17 2019
00h to 0h
Where
Gare Dalhousie (Cirque Éloize Studios), 417, Berri Street, Montréal
Recognizing efforts to foster mobility
The very first edition of the Jalon Mobility Awards was held on October 17, 2019.
This fun and festive gathering recognized the efforts made by key agents of change within the ecosystem, from those who are shaping the mobility of tomorrow to those who are questioning how it should all be done.
Journalist, presenter and producer Stéphan Bureau was hosting this event.
You can upload the booklet of the event (PDF, in French only), see the photo album or the video.
Sponsors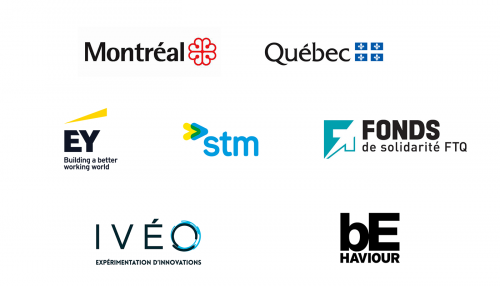 Algolux
Arpent
BIXI
Blaise Transit
Bureau du taxi de Montréal
C2RO Cloud Robotics
Centre d'écologie urbaine de Montréal
ChargeHub
Civilia
Copenhagenize Design Co
CRIM
Cube HX
Cyclo Nord-Sud
E-SMART
Electromega
Eva
Exo
FPInnovations
Institut du véhicule innovant
IVEO
Jakarto
Jour de la Terre (Fonds Éco IGA)
La Compagnie Électrique Lion
La roue libre
LeddarTech
Livraison Vélo Montréal
Locketgo
Momentum Technologies
Momentum Consultants en transport
Morelli
MRC de Memphrémagog
Navette nature
Netlift
Ogust
OnRoule.org
OpenFleet
Orange Traffic (Intersect)
Parc olympique
Quartier de l'innovation
REKAB – Multimodal carpooling for enterprise
Réseau de transport de Longueuil (RTL)
Rinse
SmartHalo
Smartpixel
Société de transport de l'Outaouais (STO)
Société de transport du Saguenay
Société Logique
Solon Collectif
STL (Société de transport de Laval)
Systra
Taiga Motors
Tesla RP
Transit
Vélo Transit
Ville de Candiac
Ville de Montréal
Ville de Québec
Xpedigo
Nathalie Dion, president, Ordre des architectes du Québec
Patrick Gagné, CEO, OSMO
Sarah Houde, CEO, Propulsion Québec
Michel Leblanc, President and Chief Executive Officer, Board Of Trade Of Metropolitan Montreal
Catherine Morency Ph. D, Chairholder, Canada Research Chair on personal mobility (MOBILITÉ Chair) and Chaire de recherche (industrielle) MOBILITÉ, Polytechnique Montréal
Thanks to our sponsors!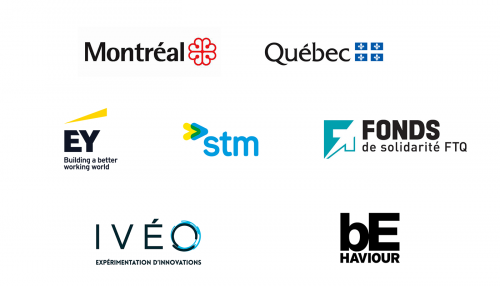 Want to become a partner? Contact us!